These Marine Communication Course is targeted for getting proper skills to enable students to obtain the VHF Radio Operations Short Range Certificate. It will make you enough acquainted with sailing boat's VHF radio installation in such a way to let you understand where to press and what and where to say, in other words - it's basic operational skills. This course is splitted in two lessons which can be studied either online or during basic IYT Bareboat Skipper Course.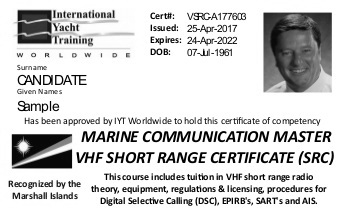 The IMO recognises two recreational levels for so called NON-SOLAS (Voluntary fit) vessels which usually sailing boats are:
Short Range Certificate – GMDSS Sea area A1 only (VHF);
Long Range Certificate – GMDSS Sea Areas A1-A2 (VHF,HF/MF).
This IYT Short Range Certificate (SRC) Course covers the training recommendations contained within World Radio Conference 2012 (WRC-12) Resolution 343 for SRC for NON-SOLAS Vessels. The 2012 Radio Regulations Chapter 9 – Maritime services Article 47 – Operator's Certificates – refers out to Resolution 343 for GMDSS licensing for NON-SOLAS Vessels.
A trainee successfully completing this course and passing the prescribed examination will be able to efficiently operate the GMDSS equipment, and to have primary responsibility to radio communications during distress, urgency, safety and routine incidents for NON-SOLAS (Voluntary fit) vessels fitted for sea areas A1 only.
Please find our official IYT documents here
Cost of this two days course is 7000 russian rubles.
According to latest International Yacht Training requirement, beginning from 7th of May 2018, base International Bareboat Skipper course CAN NOT be provided without applicant has been qualified as VHF radio operator (SRC - Short Range Certificate), therefore since above mentioned date we do provide main skipper's course which INCLUDES SRC course and after successful completion you will get both - Bareboat Skipper and SRC licences. Please note, that prices for International Bareboat Skipper course mentioned on this website are all the time INCLUDE COST of both licences, so you wouldn't be charged with any extras!